Banking and the Human Experience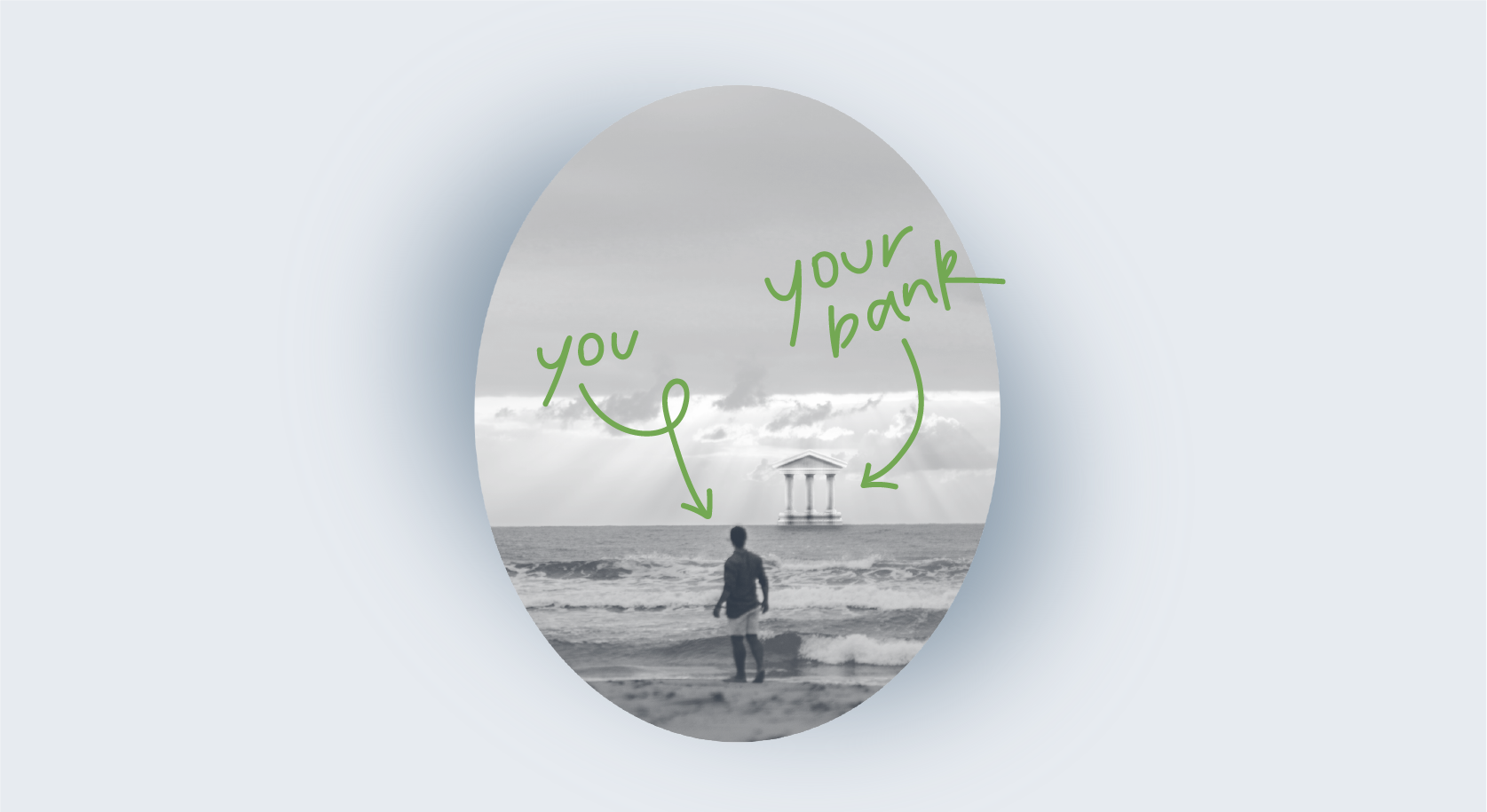 Even before the unprecedented outbreak of the COVID-19 pandemic, digital transformation in banking was well underway. Evolving customer preferences and expectations, increased competition, and advancements in technology led many banks to reexamine their business models and the customer journey.
Yet COVID-19 has dramatically accelerated the rate of digital transformation by several years and created a pressing need for banks to reimagine the customer experience in a world where physical branches are playing a diminishing role and customers are feeling increasingly emotionally disconnected from their banks.
Achieving branch transformation is no easy task. Most banks continue to operate as siloed business units. Customer interactions and bank employees' access to data are inhibited. This is highly frustrating for customers since each department can feel like its own banking institution.
The key is to bring together virtual and physical channels to provide a superior omnichannel experience. To achieve this, many banks are leveraging innovative digital technologies such as a unified communication solution.
Banking and the human experience
90% of customer interactions have shifted to digital channels such as mobile and online banking, digital wallets, and call centers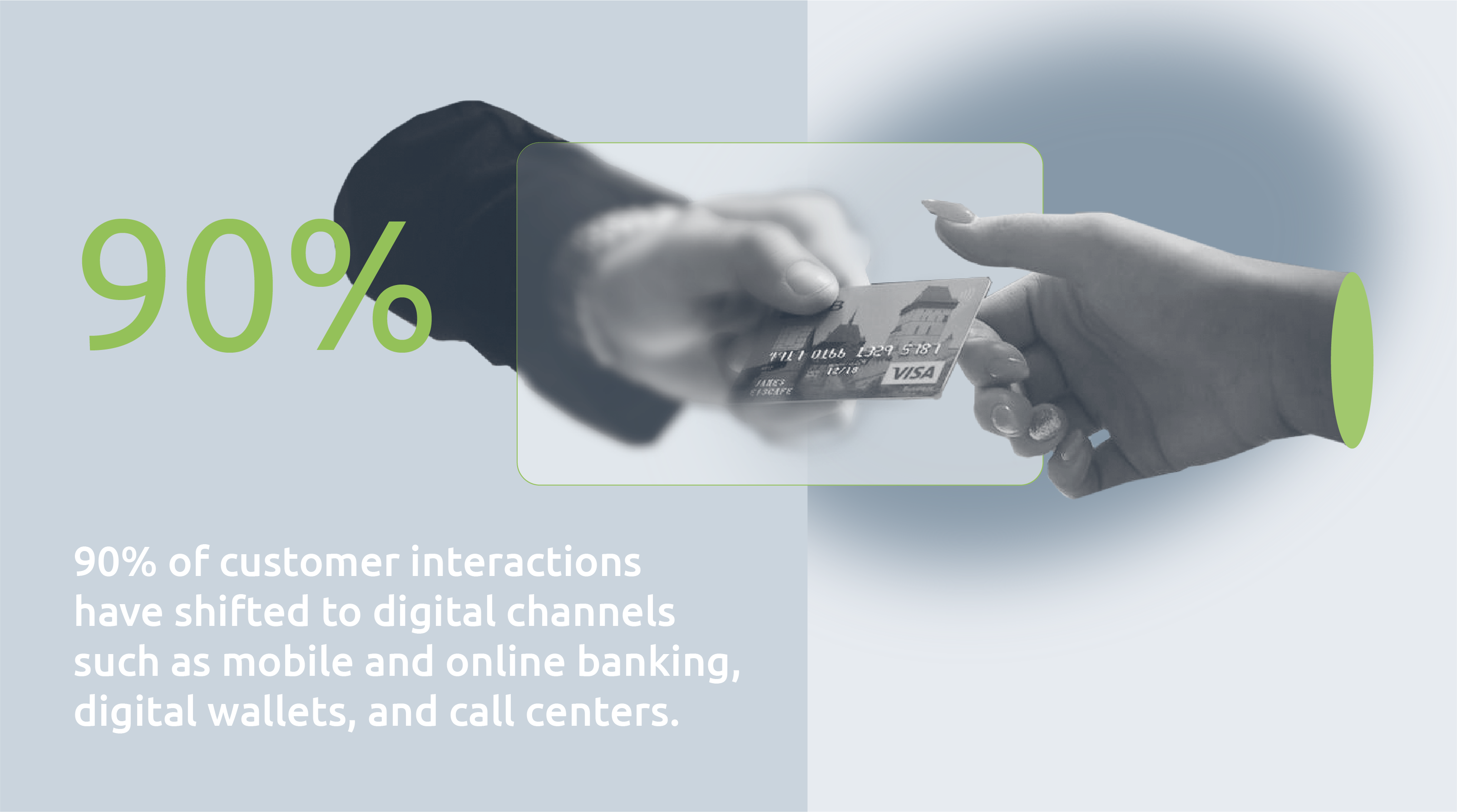 Banking relationships are built on trust, empathy, and communication. Banks have traditionally built and strengthened these relationships over time through direct face-to-face interactions in local branches. As customers gravitate towards digital channels, the human element has been slowly receding from the banking experience.
In fact, a recent Gallup research study on retail banking found that just 1 in 5 customers feel emotionally connected to their primary banks. "And it's an emotional connection that keeps customers coming back. Gallup research suggests that these emotional connectors with fully engaged customers net an additional 23% of revenue."
Successful branch transformation initiatives will cater to customer preferences for digital channels while providing opportunities for seamless human interaction and relationship building.
Moreover, communication channels must be secure and transparent to mitigate the enormous reputational and financial harm associated with trust incidents. One recent study that examined the economic harm associated with trust incidents found that 54% of represented companies experienced a material drop in trust and as a result lost out on an estimated $180 billion in revenue.
Engaging customers through digital and human elements
Banking customers expect exceptional service with each interaction. Research shows that positive channel experiences are a prerequisite for higher customer engagement. For instance, one study compared customers who report not being "very satisfied" with all banking channels they use with those that are. Customers that report being satisfied with all channels:
Are some

4x more likely

to say they are "extremely likely" to continue to do business with their primary bank.
Are

more than 9x more likely

to say they are extremely likely to use their primary bank for additional financial services.
Are

65% more likely

to have opened a new account or signed up for new bank services based on conversations with a bank employee.
For the vast majority of customers, digital channels are the first experience with the brand. Impersonal interactions that fail to create an emotional connection will contribute to the growing number of disengaged banking customers.
This excerpt is a part of our banking trends brief, Branch Transformation: Achieving Branch Transformation by Bringing Together Virtual and Physical Channels.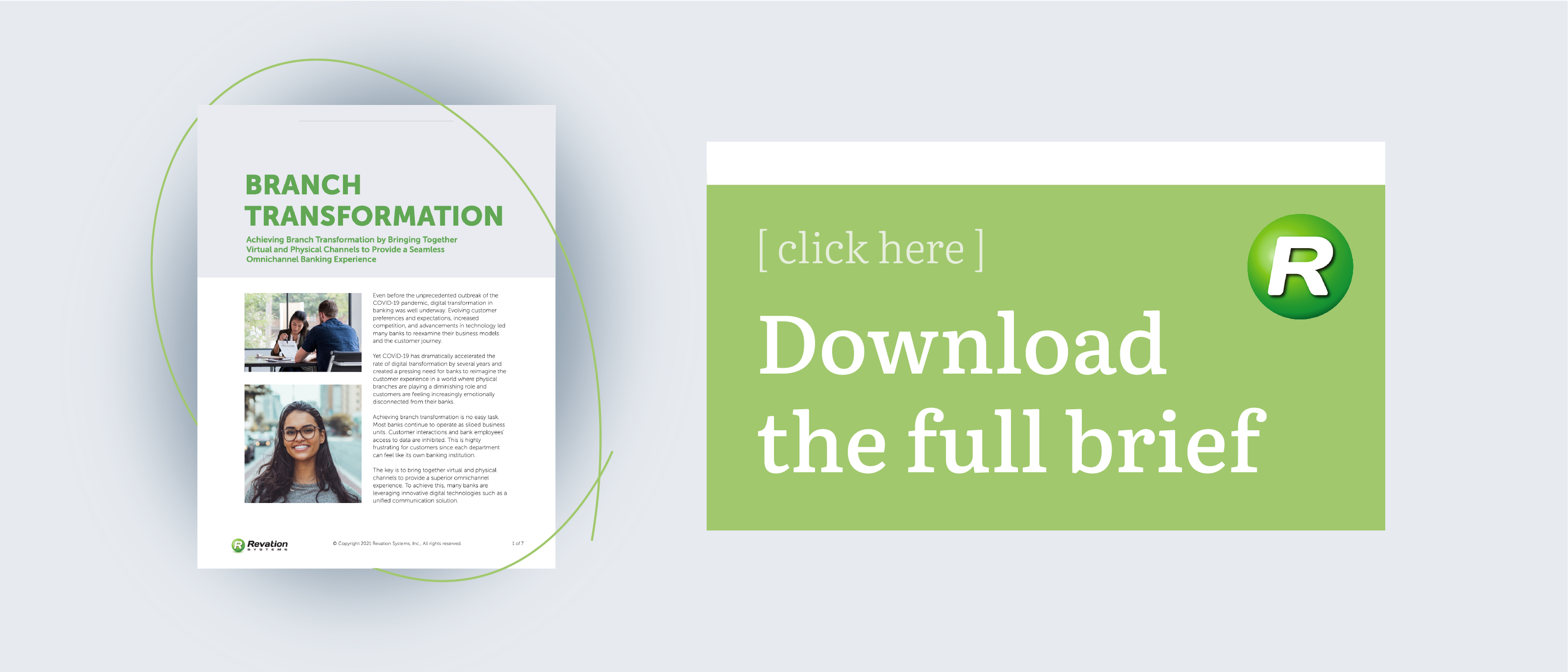 You can download the full brief here, or view other webinars, e-Books, white papers and more in our resource center, including:
---

LinkLive for Banking
LinkLive for Banking is for Financial Institutions who need to securely communicate with customers, clients, employees, and business partners and want it to work in the way that we all live and work across digital and physical channels.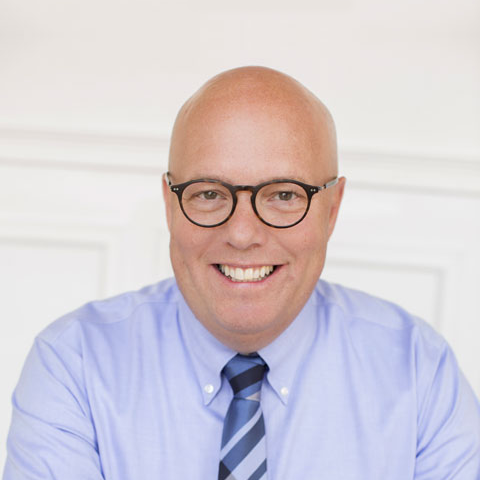 In his role of president / CEO, Price utilizes his deep domain expertise in IP networking and communication applications, including telephony, unified communications, call-center technologies and messaging. He and the Revation team are dedicated to providing a secure, easy-to-use communications solution to industries such as healthcare and financial services.
Subscribe for Updates
---
Contact Sales
Revation Systems
Providing secure, compliant unified communications via our cloud platform. From encrypted email to secure desktop sharing to secure voice and video collaboration, Revation LinkLive is the first truly unified communications platform.
---