How Technology is Bringing Personalization to Digital Healthcare Services
Like nearly every other industry around the globe, the healthcare industry has experienced a significant amount of change in 2020. From the havoc that the COVID-19 crisis wreaked on hospitals across the nation to medical professionals experiencing layoffs due to the postponement of elective procedures, it's safe to say the industry looks quite a bit different than a year ago. However, as the COVID-19 pandemic persists, there is a common thread connecting healthcare pre-pandemic to its current state: technology.
Accelerated Telehealth Adoption
The global telemedicine market was at $34 billion before the pandemic and is now projected to reach $185 billion by 2026. The Coronavirus Aid, Relief, and Economic Security (CARES) Act has helped to fund telecommunications services and make telehealth more widely available across the nation, contributing to the growth of  telehealth in 2020. As the virus continues to spread and masking and social distancing measures stay in place, patients still remain hesitant to visit their healthcare provider's office in person – accelerating the rate at which healthcare systems are adopting new technology.
According to a recent survey by PwC's Health Research Institute (HRI), 78% of consumers said they would skip at least one visit such as a well visit, maintenance visit for a chronic illness, elective procedure or recommended lab test or screening. Telehealth is a tool that can be used by healthcare organizations to help get patients back to receiving the care they need – in the way that works for them and helps to minimize the spread of the coronavirus.
Technology has become more mainstream now that many patients are relying on it as their sole medium for care since the onset of the pandemic. This provides healthcare organizations with a unique opportunity to personalize digital experiences to keep patient satisfaction high throughout the pandemic.
Why Telehealth is So Well-Suited for Personalization
Although the rapid adoption of digital transformation that was born out of COVID-19 is now helping healthcare providers care for their patients once again, a much larger opportunity exists to further improve the patient experience through personalization. For instance, one specific scenario in which healthcare systems can use telehealth solutions to their advantage is to personalize care for patients with chronic conditions.
In fact, 5% of American consumers reported that they or a family member used telehealth for the first time during the pandemic, which is equivalent to about 16.5 million Americans started using telehealth in the past couple of months alone. Of that 5%, a whopping 37% of those were patients with chronic conditions. These patients are turning to telehealth technology, such as video visits, to receive regular care and check in with their provider on a routine basis without the risking possible exposure to the virus by physically visiting a clinic. Using video to communicate not only helps keep the provider-patient relationship intact but also benefits the patient in that they can be seen by their specific provider just as they would in person – as opposed to connecting with any healthcare provider based on availability.
Patients with chronic conditions can connect with their doctor to continue remote monitoring to help better manage their condition with telehealth solutions. Doctors can more efficiently visit with a greater number of patients in a single day while simply taking one video appointment after the next – especially important during this time when most healthcare systems' resources have been stretched thin.
The Secret Weapon to Personalizing Digital Healthcare
As digital transformation changes the way that patients interact with their healthcare providers, especially amid the current pandemic, advancements like artificial intelligence (AI) technology are further personalizing the patient experience. Chatbots using artificial intelligence can help healthcare systems automate routine tasks such as scheduling an appointment or resetting a patient portal password.
One specific benefit that chatbot technology has for patients themselves is the ability that it has to enhance the way that healthcare contact center agents communicate with a patient. Contact center communications technology is expanding to provide real-time data to agents on their tone or sentiment that they have with a patient in a specific interaction. This data helps agents gauge the tones that are being communicated in their speech, such as openness, confidence, agreeableness or even anger. Having access to this information while on the phone with a patient can help an agent adjust their communication dynamically to ensure the patient leaves the conversation feeling happy and satisfied. Artificial intelligence holds tremendous power in taking the patient's experience with digital healthcare to the next level through personalization.
Using Digital Healthcare to Meet Patients Where They Are
In addition to telehealth being a safe and effective way for patients to get the care they need from the comfort of their own homes; healthcare organizations can be more strategic with the way they utilize digital healthcare to shape the future of patient engagement. As the pandemic will, eventually, begin to fade, healthcare systems can use telehealth to meet the patient where they are – which now happens to be on their mobile devices – rather than focusing all efforts on digitally transforming the clinic as organizations were doing prior to the pandemic. Using technology like artificial intelligence and chatbots to personalize the patient experience will ensure that patients receive the specific care they need in the way they are comfortable to receive it, whether it be in-person or digitally as the effects of the pandemic will be long lasting.
---
Learn about Reva, our AI Chatbot
LinkLive is a customer engagement tool that combines Reva - an AI chatbot - with live agents to deliver full-service omni-channel communication. This integrated contact center solution allows organizations to improve agent productivity and customer satisfaction through advanced natural language processing and machine learning capabilities. New features include chatbot personalization that allows additional time savings for deployment, training, and support. Enhance the self-service experience across all channels with Reva AI.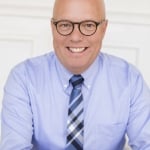 In his role of president / CEO, Price utilizes his deep domain expertise in IP networking and communication applications, including telephony, unified communications, call-center technologies and messaging. He and the Revation team are dedicated to providing a secure, easy-to-use communications solution to industries such as healthcare and financial services.
Subscribe for Updates
---
Contact Sales
Revation Systems
Providing secure, compliant unified communications via our cloud platform. From encrypted email to secure desktop sharing to secure voice and video collaboration, Revation LinkLive is the first truly unified communications platform.
---