'Hey Alexa, Close My Bank Account'
If you haven't heard, traditional retail banking is being upended by big tech.
Are you listening?
Whole Foods went through many phases before being acquired by Amazon for $13.7 billion in 2017. Before Whole Foods became Amazon's biggest subsidiary, it was a tiny organic grocery store in Austin, Texas. This bold acquisition into grocery preceded the public launch of Amazon's transitions into financial products, such as Amazon Cash. Amazon Cash enables consumers to add cash to their Amazon Balance at over 45,000 participating stores by purchasing and automatically claiming an Amazon.com Gift Card to their Amazon Balance. Consumers love that it is simple, quick, and their competitive edge is that there are no fees. From a financing perspective, Amazon's online platform for small business merchants has topped $1 billion per year for several years running.
The Silk Road Goes Digital
A hallmark of dynamic technology firms such as Amazon is that they never regress. On the contrary, seemingly similar business models have emerged with barely noticeable differentiators. Take Alibaba for example. Ten years ago, who would have predicted that the company would be outperforming (by sales and profits) all other US retailers combined? All while also setting the pace for artificial intelligence and amassing the world's largest money-market fund - comparable to the top ten US banks. With digital banking intelligence to build profiles based on consumers' financial history, Alibaba's own MYbank approves loans instantly. If that wasn't enough, Japan's Rakuten offers financial services, attributing for nearly half of their revenue and serving as the country's largest internet bank. Rakuten is consistently in the top five credit card companies showing no signs of decline.
Established technology companies have found their way into our finances virtually overnight. While this is attractive when fleeting fintech startups seek funding, these organizations lack what these tech giants have been grooming for decades. This is concerning for banks as the days of the unique connection held between banks and their customers is long gone. More importantly, what can be done to slow the inevitable eradication of traditional retail banking as a viable business model?
Out with the Old
Before anything else, banks and financial institutions must address gaps in digital customer service and unnecessary complexity as it pertains to conventional banking products. What was once an arduous, over-involved cycle of in-person interactions has been reduced to a tap or a voice command. Traditional retail banking is becoming as antiquated as the currency that bred its necessity. Digital banking customers trade trust with major tech firms intuitively, and these firms are able to create more flexibility with online financing than traditional retail banking could ever provide. The slow decay of the traditional banking experience may not be able to be stopped - at least in the near term - yet, it can be mitigated if addressed properly.
Digital banking certainly will not match the abundantly funded user-interaction design and simplicity behind big tech, yet traditional banks need only to look to the driving force behind their customer base to aid in their evolution amidst a digital revolution: saving.
By routinely and systematically salvaging gaps in existing customer communications and digital customer service, they may reduce and reverse the outflow of consumers making the switch to virtual-only banking alternatives. It would be a stretch to assume that even Jeff Bezos and his original online bookstore would ever be a potential competitor with traditional retail banks using in-home, voice-controlled assistants for everyday consumer banking. Yet, it might be the same tenacity, applied virtually to recovering even a minor fraction of customers lost to ineffective customer service, that may keep Bezos from becoming the bank.
---

LinkLive Banking
LinkLive Banking is for Financial Institutions who need to securely communicate with customers, clients, employees, and business partners and want it to work in the way that we all live and work across digital and physical channels.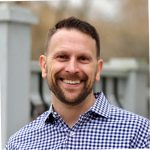 Patrick Reetz brings extensive knowledge and experience in leading teams that design, build and optimize across physical and digital channels that have produced meaningful results for customers and shareholders. In his role of Chief Product Officer, Reetz executes the product vision and collaborates with Revation's leadership to accelerate growth. Patrick's passion for innovation and excellence has resulted in hundreds of new customers over the last 24 months, where he previously served as the Senior Vice President of Product and Markets. Reetz brings a wide variety of skills to his position at Revation from his most recent position of Senior Vice President of Product Management for Retail Banking and Channels at Fiserv. He holds a B.A. in Finance from the Wisconsin School of Business and an MBA in Marketing from the University of Wisconsin-Milwaukee-Lubar School of Business.
Subscribe for Updates
---
Contact Sales
Revation Systems
Providing secure, compliant unified communications via our cloud platform. From encrypted email to secure desktop sharing to secure voice and video collaboration, Revation LinkLive is the first truly unified communications platform.
---